Certain breeds are known for their ravenous appetites and when given the chance, they will try to eat anything that they set their sights on.
As doting dog owners, it can often be difficult to refuse their loving, puppy eyed stare, meaning that many of us sneak them some snacks or leftovers from our plates.
However, did you know that there are some foods that are toxic to dogs and can therefore have adverse effects on their health? 
Jerky is a lean cut of meat that has been trimmed into strips and dried. Typically, it is marinated and then cured with salt. If you are curious as to whether it is safe for your dog to consume, we have provided you with the answers in our guide below. 
Is beef jerky safe for dogs?
In short, certain types of beef jerky are safe for canine consumption and other types that aren't. If the jerky comes from a single protein source and is low in salt and additional ingredients it is safe for your dog to eat. 
The dangers associated with feeding your dog beef jerky don't concern the meat itself but rather the spices that have been used to flavor it. Although the spices make the jerky taste great for humans, they can leave your dog feeling rather unwell. 
Most types of commercially produced beef jerky are high in salt. Again, too much spice can leave your dog feeling rather under the weather and any sort of illness can take hold of them rather quickly. 
Now you may be wondering what types of spices are unsafe for your dog. As we have mentioned, foods with a high salt content should be avoided, along with those that contain onion, garlic, black pepper, any sort of spicey flavoring, or xylitol. 
What type of beef jerky is safe for dogs?
If the cut of meat is plain and hasn't been seasoned with any salt or spices, it can actually be a tasty and somewhat healthy treat for your dog.
If you are going to be feeding your dog shop bought beef jerky that is intended for humans, you must check the labels on the packaging closely to make sure that it doesn't contain a lot of or any of the ingredients and spices that we have listed.
When given in moderation, dried meat can be a healthy addition to your dog's diet because it contains protein and nutrients. 
Alternatively, you may wish to make some homemade beef jerky. This way you know exactly what is being added to it and you can ensure that it is free of any ingredients that may potentially be harmful to your dog.
A great thing about creating your own jerky is that it is super easy to make. All that you need is the meat and an oven to cook it in. When cutting your meat, ensure that all of the slices are even. Cook it until the meat is dry and free of moisture. 
Another option is to get some beef jerky treats that are specifically intended for dogs to eat. It is worth noting that not all pet brands produce high quality jerky for dogs, although you would expect them to.
In fact, there are a few that should be avoided. For example, a few years ago, certain treats that were manufactured in China lead to many dogs developing an illness or in the worst cases, dying.
To check that the treats are safe for your dog, you should read the packaging beforehand. It should state that the treats have been made completely from meat without any additives. 
What are the benefits of feeding your dog beef jerky?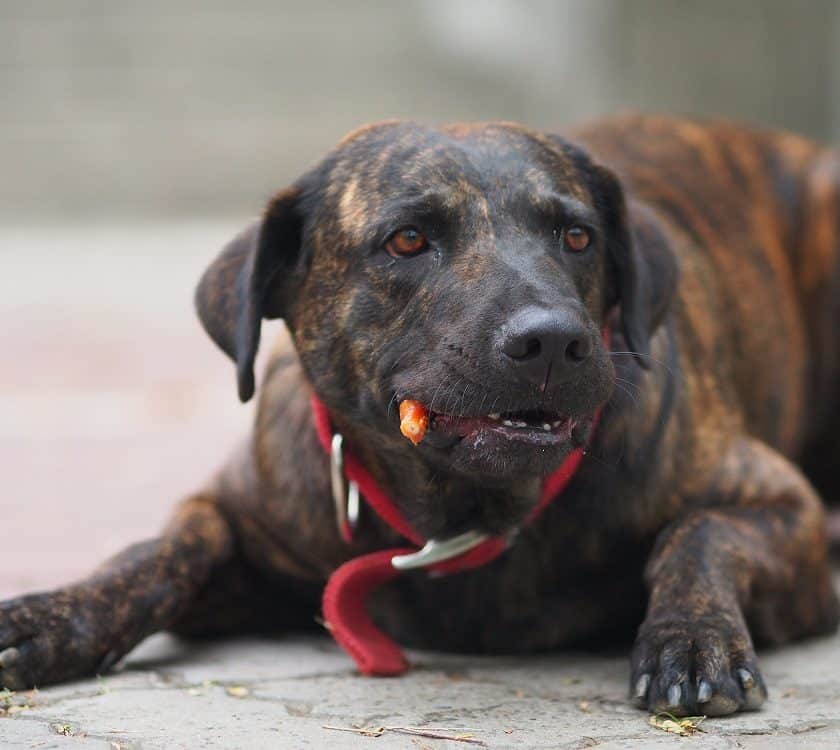 Jerky is made via a process that involves dehydrating the meat at a low temperature. Doing so preserves the vitamins.
Beef jerky is also a source of protein and as the cuts of meat are lean, they are low in fat. As such, you needn't worry about it making your dog obese. Of course, this doesn't mean that your dog should be fed this treat excessively. 
Will beef jerky leave my dog feeling unwell?
If your dog happens to get its paws on some beef jerky, you may be wondering what impact it is going to have on your dog.
They may begin to suffer from an upset stomach or sickness and diarrhea. In this case, you must make sure that your dog is not dehydrated; give them access to plenty of water.
If they begin to look weak and lethargic this may be a sign that your dog is suffering from food poisoning. To be on the safe side, it is worth consulting the vet as they will be able to advise you on the next steps that you should take. 
Is teriyaki beef jerky safe for dogs to eat?
This variety of beef jerky is not safe for your dog to eat. This is because it is coated with a teriyaki sauce which gives it flavor.
Teriyaki sauce is made up of a combination of ingredients, this includes brown sugar, garlic, honey, soy sauce. It is then seasoned with some spices which give it more of a kick. Some of these ingredients can be toxic to your dog should they ingest them.
The majority of dogs, especially those with sensitive stomachs will struggle to handle the spiciness of the sauce too. 
Final Thoughts
As you can see, there isn't simply one straightforward response to this question. Beef jerky is suitable for canine consumption so long as it is bland and hasn't been seasoned with any additional ingredients and spices.
Making your own homemade jerky will give you added reassurance because you can monitor exactly what is being added to it to ensure that the ingredients aren't harmful or toxic.
If you are concerned that your dog may have consumed some beef jerky, you may start to detect some signs of illness. In this case, you will need to consult the vet.